CUSTOMER CARE –
(480) 582-0777
SCHEDULE SERVICE
If you have a pest control problem between treatments, we'll keep coming back until it's solved or we'll refund your last service payment. Give us a call or we'll call you!
WE BELIEVE IN DOING THE JOB RIGHT THE FIRST TIME
If you are not completely satisfied, we Will return at no extra cost until you are 100% happy.
Make the safest choice for you and your family today and contact us to schedule a free inspection/ service so we can solve your problem today.
THE LEGACY SHIELD GUARANTEE
Same day service
If you need us, contact us immediately, we will have a proposed solution for you within 24 hours.
REQUEST A NO-OBLIGATION INSPECTION
OPTION 1
Test inspection & protection plan.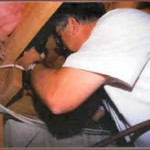 OPTION 2
Termite inspection & protection plan.
---
FAQ
WHEN IS TENTING NECESSARY FOR TERMITE CONTROL?
Question: When is tenting necessary for termite control? If it is necessary, do we have to empty the house of all contents and for how long?
ANSWER: It is used for some severe infestations of drywood termites, even then there are other methods; it is not necessary to empty the house.
MOVING AN ANT NEST
Question: I have an appointment scheduled for tomorrow to have Legacy investigate a carpenter ant problem. I believe I know a potential source of the ants: a stack of decayed timbers beneath my porch. I would like to try moving them but if I do uncover a nest, would this cause them to scatter and spread to more places? …or should I be patient and consult with the Legacy technician?
ANSWER: This may be the nest site; moving the wood will be fine, and will not spread the ants or the nest.